The weather in Spanish Wells is simply fantastic!  The sun seems to shine continually and there always seems to be a pleasant breeze. Hurricane season is September and October and so most people don't visit because we tend to get more rain, storms (and even hurricanes).  The winters are slightly cooler but still extremely comfortable.  Most locals don't go into the water in the winter time but for most 'northerners' the winter water in Spanish Wells is nicer than the those frigid ice pools we call 'lakes' in July/August.  The Spanish Wells summers are certainly hot and humid but the water and the Bahamian breezes make it very endurable.
The WATER TEMPERATURE remains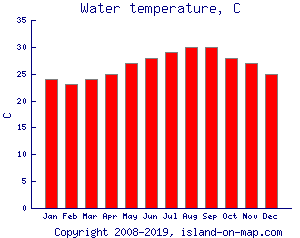 pretty constant averaging about 79°F (26°C) with the highs of 84°F (29°C) in August and lows of about 74°F (23°C) in January and February.
To put things in perspective, that low is about the warmest the Great Lakes get in the middle of August.  Where I grew up and learned to swim (the Petawawa and Ottawa rivers) we were lucky when the water temperature hit 70°F (20°C) (I am sure I saw an iceberg float by once…there are parts of me that are still blue!)
The 'bottom' line is that for most people who live where they experience snow on a regular basis will find the water perfectly pleasant and enjoyable all year round.