Spanish Wells is located at the north end of the island of Eleuthera, Bahamas on the island of St. George's Cay on the Caribbean (gentle ocean) side.  Howard Beach House is on the Northside Beach off 13th St. just behind Dion's Workshop.
Latitude 25.54550, Longitude -76.75550 (click to see exactly where Howard Beach House is)
220 miles (350 km) E of Miami
50 miles (80 km) NE of Nassau
7 miles (11 km) NW of Harbour Island
6 miles (10km) NW of North Eluthera Airport (ELH)
HOW TO GET AROUND WHEN YOU ARE HERE

Pinder's Taxi and the Fast Ferry (from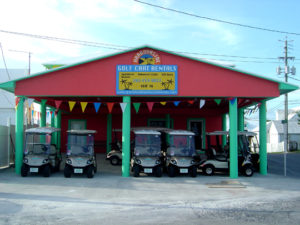 Nassau or from Harbour Island) drop you off at the harbor; that's about a 15-20 minute walk from the house and there is a bit of a hill to go over so you can walk but most people rent a golf cart (there are no cars to rent on the island).  The most convenient place to rent a cart is from Andre at Harbourside Rentals.
Harbourside is….surprise, surprise…at the harbour just near the Ferry and Pinder's Taxi.  Harbourside also rents boats and bicycles as well.  You can find several others that rent carts as well but they all have a similar price and Harbourside is the easiest.
You can get to most places you need to get to (beach, liquor store, grocery store, bank, restaurants) by walking so some people just rent a cart for a day or two rather than the full week.  There is a great restaurant called Sandbar on Russell Island that you definitely need a cart to get to.
If you want to tour Eleuthera (100 miles long and many, many beaches, you can rent a car.  There is no Avis or Hertz on the island, just locals who you can call and arrange to meet at the airport or Jean's Bay.  I suggest asking Calvin or Gurney for a recommendation.